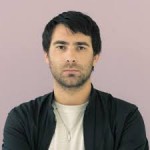 Gabe Gurnsey of Factory Floor will soon release his debut solo single, 'Falling Phase'. It's coming out on Drone, the label run by Death In Vegas' Richard Fearless, as their fourth release.
On the EP itself, Gurnsey explores "humanising machines and electronics", with the A-side featuring vocals from fellow Factory Floor member, Nik Void.
The EP is out later this month, and you can view the video Gabe, Fearless and Taylor Burch made for the title track below:
And the video for the b side "Partaloa", made by Gabe below.